Two books
Instead of asking GPT to write my material, I used it as a critic to help strengthen my writing. I like the result: it feels much more authentic and less like generated text.
Ministry for the Future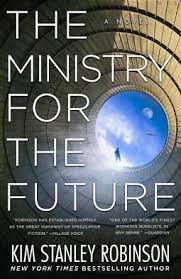 I enjoyed Ministry for the Future by Kim Stanley Robinson. This book is difficult to pigeonhole into a particular genre - somewhere in between "climate fiction" and "hard sci-fi". It paints an optimistic future of saving the Earth through geo-engineering and crypto currency utopianism. It's set in Zurich, which made me nostalgic for all the time spent hanging out there. The closest comparable recent book is Neal Stephenson's Termination Shock which explores similar themes of geoengineering to save the planet. Where Termination Shock is full of action and adventure, set against a climate change background, MftF is more mellow, focusing on the workings of a small international governmental agency trying to save the planet. Besides climate change, the book also explores themes of global inequality and the power of individuals to make a lasting change. The opening scene will be seared into my memory forever: a harrowing heatwave in North India which results in millions of deaths. Given the heat waves ripping through America and Europe today, this possibility feels all too real. Ultimately, the book left me feel optimistic and hopeful. It's unlikely we can get through this without geoengineering, but the fact that there is a possible way out of this mess is heartening. Recommended.
When the Heavens Went on Sale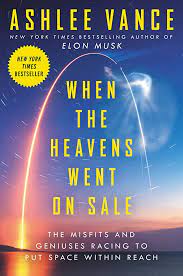 I listened to Vance's latest book When the Heavens Went on Sale via Audible. I find the audio format more compelling for dramatized non-fiction - the details are less important than the story and the narrative arc. I'm very interested in space - it presents a completely new, unexplored frontier, vast and unimaginably huge. The book is about engineers, investors, and various characters building companies to conquer near earth space: Planet Labs, Rocket Lab, Astra, and Firefly. Planet Labs launched small satellites to constantly image the world, RocketLab and Astra are launching rockets to deliver payloads to space, and Firefly is building engines to power these rockets. The stories lose some steam as we go through the companies - Planet and RocketLab are the strongest, Astra is weird, and things sort of fall apart with Firefly. Given that at least three of the companies are public, it is interesting to see how things unfolded after Vance's coverage of these companies ended. Regardless of some story weakness toward the end, I came up with a great sense of excitement about everything going on a few hundred miles above our heads. Recommended for a non-fiction summer read / listen and for anyone at all interested in space and its potential to impact life on earth.